Get our FD service on Flexible or part-time basis and acquire necessary support at the times of business growth (organic or through merger/acquisitions); when new systems need to be implemented; when hiring and building of finance teams are required, when key investment and financing decisions are to be made etc.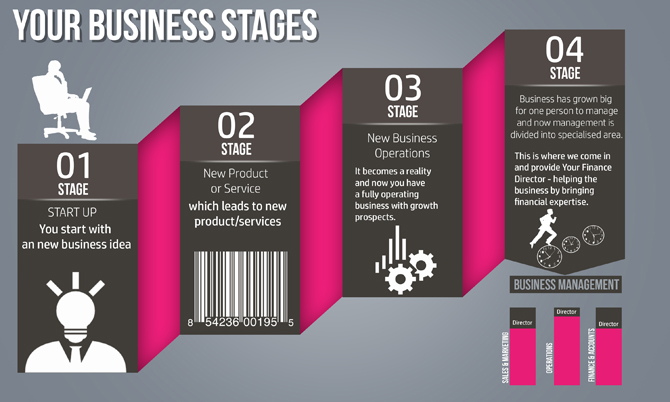 Owning or controlling a small business brings many responsibilities among which are those that bring revenue and those that do not. It is usually the owner or top executive who assumes the responsibility of being the 'rainmaker' but then typically dilutes that responsibility to assume the financial duties inherent with any business.
The Need
In most startup organisations, the company reaches a level where a finance director is needed but the funds are not available to pay for the position and its related costs. Payroll and insurance costs will likely add up to more than the organisation can afford at the time it is needed. At this point someone has to assume the responsibility of producing the financial reports needed for decision making, tax purposes, regulatory reporting, budgets and forecasting and capital acquisition.
The Solution
Having the top executive, who is responsible for creating revenue, assume these tasks actually costs the company more since this person is now spending time doing non-revenue producing but certainly vitally important tasks. This is where the role of a Virtual Finance Director makes the most financial sense. By bringing in an experienced and reputable Virtual Finance Director to assume these responsibilities, the organisation will free up valuable time for the revenue-creator. The FD will take part in board meetings and generally look after all relevant financial issues a company may face.
The Savings
The Virtual Finance Director can focus on the health of the business with the perspective of a full-time finance executive while the business only pays for the actual work being done. Unless the small to medium business is growing through continuous acquisitions, there is usually not enough work for a full-time finance director so the Virtual FD fits the situation perfectly.
"I've been a satisfied client of 2E for more than a year now. With quick and helpful responses, the team make the task of keeping your financials in order an easy task."
– Adriaan Erasmus , ACE Software Consultancy